Confused about which company meets best with your career prospects? You've indeed come to the right place. When it comes to choosing the right kind of career, one needs to be far-sighted. Right career choices are also imperative for a good personal life. Imagine, getting stuck in a wrong job and wasting your time and energy there and regretting your hasty judgment. So, it's important to think about all aspects before making a career choice.
It's a well-known fact that cloud is 'the big thing' that is shaping the future of applied sciences. There are many companies that work in this area. But, it will not be overrated to say that Salesforce is the leader in cloud based CRM. It has a market share of more than 15% and consistently generates upward of $1 billion more in revenue than its closest competitor. This was about the company's growth. What about yours?  There are surplus job openings at Salesforce ! Salesforce developers are being reached out by multiple recruiters every single day. Job openings are incrementing by 58% every year for a Salsesforce developer.
Another good thing about salesforce is that literally anyone and everyone can learn salesforce, even the development side. No matter what your background or job experience is, it is your personal experience that matters at Salesforce. There are plenty of free resources at your aid, if you're willing to learn. If you like coding then choose 'developer module', if interested in admin administration side then choose 'admin'.  Salesforce is a huge company where you get in touch with other areas like sales, marketing, legal, support and many more.
When talking of job satisfaction, it's highly based on one's personal growth. Salesforce offers a wide array of job opportunities based on your skillset. There is an undeniable possibility of lateral and vertical career growth. No matter where you start from, with resources and hands on experience you can always expect a promotion in a very short span of time. Salesforce has the widest domain with regards to software, marketing, analysis, business, consultancy and whatever you can think of !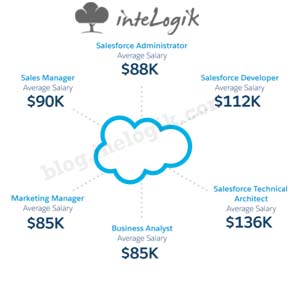 It's not always about the money but in most cases it is! Well, having said that salesforce professionals earn A LOT of money!
The average Salesforce developer makes a $112,000 per year base salary. Hourly and remote wages range from $80 – $150 per hour.
Now, with ever-changing trends in tech sector and extreme competitions; the constant job insecurities is inevitable. But Salesforce is here to stay!
According to Investopedia " Software as a service (SaaS) products have become increasingly popular and have driven the growth of the CRM market. It's predicted that SaaS CRM solutions will reach a deployment rate of 80 to 85% by 2025. In the near term, the CRM software market is growing at a compound annual growth rate (CAGR) of 14%. The cloud-based CRM subsection of that market is growing at a compound annual rate of 22%."  So rest assured on that front too!
So, what are you waiting for? Salesforce is end of all your worries related to career, growth, profession and money! It's up to you, whether you want to settle in for a company with average growth or the BEST.
100% FREE Consultation on Salesforce Training & Solutions
Whatsapp: +91-7774892805 OR Email: contact@intelogik.com