Intelogik's Career Building Program : FAQ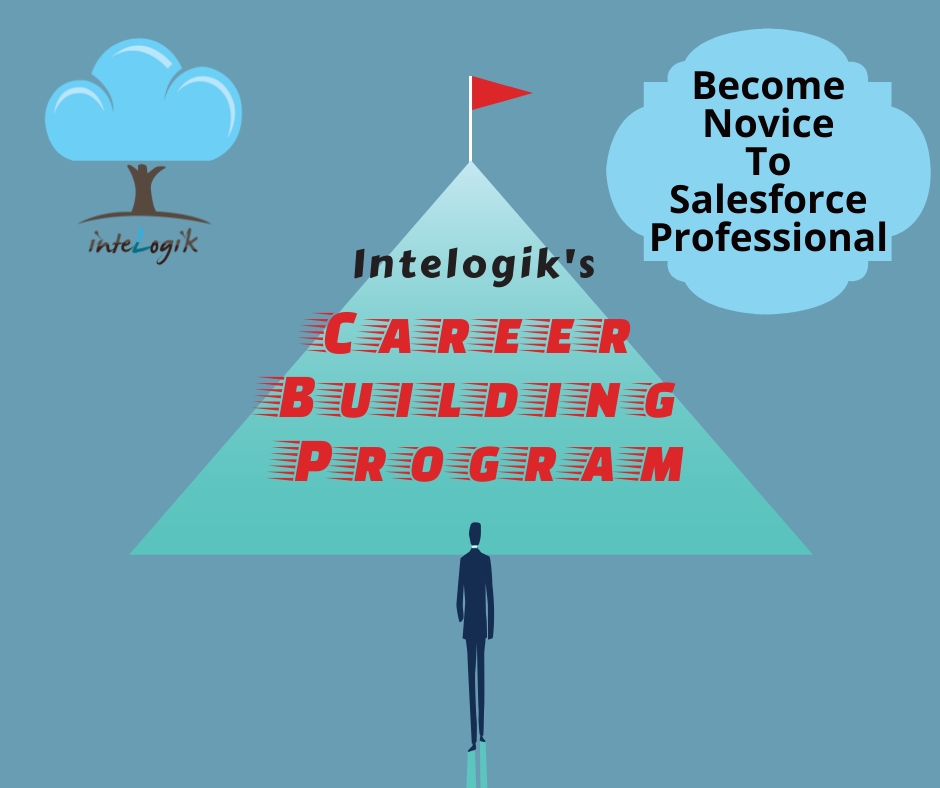 1.What is Intelogik's Career Building Program ?
— This is a latest & unique initiative taken by Intelogik to help the candidates in achieving their dream job in Salesforce -Â  to become a Salesforce professional.
2.Who will be helping in this program or who will be contributors in this program?
— These are ex students of Intelogik. They are now experts in their respective domains. These expert contributors include more than 100 HRs/Vendors/Hiring managers, 7 Directors, 4 CEOs, 25 project managers located in different countries. The way they made their career with Intelogik, they agreed to offer their helping hands for Intelogik's new candidates as well.
3.For which region these contributors can help?
— These expert contributors are located in more than 9 countries, including India, USA, AUS, Canada, UK, Singapore, Germany, UAE, China etc.
So they are helping those candidates which belong to their country.
4.Who are eligible for this program?
— This is applicable only for Intelogik's students who learn end to end training from Intelogik.
5.What is the process of execution in this program ?
— This program works on one to one mode. Every candidate will be given a separate process plan which suits him/her, so that he/she can reach his/her goal quickly.
Process contains 3 major phases :
Phase A: Profile Analysis
— In this phase, contributors will analyse the candidate's current profile, identify the issues in the profile, note the major problems which can refrain the candidate from getting job in Salesforce market, make feasibility check to see profile's potential as per current market standards.
Phase B: Road-map Preparation
— In this phase, expert contributors will prepare a road-map for these profiles. They will provide the guidelines as per HR / hiring manager's benchmarks as they are regularly hiring Salesforce professionals in their company. This way candidates will understand the optimum solution for his/her profile which can help him/her to secure a good job in Salesforce industry.
Phase C: Plan Execution
— In this phase, expert contributors and mentors of Intelogik will start helping candidates to follow the planned process in step by step manner, they will groom the candidates to make them suitable for market by giving them all planned guidance. Then HRs and marketing team of Intelogik will start providing various openings whenever available in their company, in their network as per candidate's country. And finally with entire team's guidance, candidate will give his/her best to get the Salesforce job.
6.What kind of issues a candidate can have in the profile which can refrain him/her from getting a job in Salesforce market?
— Lack of Salesforce skills, no advance level knowledge, professional gap / employment gap, no work experience, being a fresher without any industry experience, non fresher yet no industry experience, experience but from non IT domain, inability to crack interviews, lack of coding skills, absence of project business process skills, inability to crack certification exams, lack of exposure to Salesforce real time industry level projects etc
For all above issues, this program has some solution which plans to help the candidate to overcome from those issues and make him/her suitable for market.
7.Is this one to many service or one to one?
— This is totally personalized, one to one service. Intelogik's mentors will focus on every candidate's profile separately and help till he/she gets his/her job. Even after syllabus is over, mentors will keep helping the candidates and guide them for this program. This program is totally different than syllabus efforts.
8.Is this excluding training efforts Intelogik takes?
— Yes. Whatever training efforts Intelogik will take for the candidates, apart from that all these efforts under this Career Building Program also will be taken care by Intelogik.
9.Is this contributor service a paid service? How much candidates need to pay?
— The honorarium which the expert contributors will take for offering help by them, will be taken care by Intelogik. So students have to pay nothing for these services given by contributors.