Salesforce is propelling the creation of millions of jobs with each coming year. Â So there is not a better bet than getting trained in Salesforce so that you can soar very high professionally. The training and certification in Salesforce, whether online or onsite, helps you transform your professional profile, enable you to help your company prosper immensely, and gives an incredible experience of satisfaction to your customer base. Moreover, it also helps you as an individual to earn credentials necessary for your career growth.
Even if you hail from a non-developer and non-coding background, it is never too difficult or late to start learning Salesforce. The various reputed Salesforce training institutes like Udemy, Salesforce Trailhead, Simplilearn, Intelogik, Edureka, Lynda offer well-structured online training programs in Salesforce. These virtual learning training as well as certification courses help you to maximize the productivity of your Sales, Marketing or Admin tasks by tapping into the vast resources of Salesforce. With an expertise in the world's top CRM platform, you tend to increase contacts, sales revenue every day and attain optimal business targets with much ease.
Online medium of instruction is growing much popular and feasible due to various reasons. Online Salesforce training programs are inherently less expensive than onsite training programs. Online training sessions are flexible and can be scheduled at convenient times and can be comfortably accessed from any location. These programs have smaller batches than the on-site classroom sessions, and so one gets the privilege of personal attention and mentoring. A learner undertakes self-paced learning and even with that one gains expertise in a very short span of time.
These institutes have customised course modules for different categories of learners starting from the beginners to non-technical professionals to technical professionals. People with technical profiles can directly join the advanced Salesforce courses while the beginners and professionals from the non-technical fields are taught from the scratch or from the very basics to reach higher level step by step.
Institutes like Udemy, Salesforce Trailhead, Simplilearn, Intelogik, Edureka, Lynda, etc. have a dedicated and experienced faculty which is available for the corporate trainees to guide them at their convenience. These forums provide Instructor-led live classes in roles for Admin, Developer, Analyst, Consultant, Architect Project Manager by providing 24/7 friendly support. The virtual sessions offer practical sessions using real-time scenarios of this course and one gets to access Salesforce Training videos for lifetime !
There is increase in demand for all job profiles related to Salesforce on a daily basis. Its a highly advanced and easy to use cloud computing CRM technology  to work with.
Even people with non-technical backgrounds are becoming inclined and interested in learning Salesforce and are shaping their careers in new styles.
For technical people as well, there are different choices available in Salesforce career. If one likes coding,  then he/she may choose "Developer module"of Salesforce training program. If one doesn't like coding, and is more inclined towards administration, then he/she may take up a training to become a Salesforce Admin.
But having hands-on knowledge of combined admin+developer's role gives one an added advantage with a good job profile and a very lucrative salary.
So far Salesforce seems like one of the most promising career option that is going to stay for a long time in future.
Jobs like Salesforce Admins, Developers, Marketing Automation Expert, Database Analysts for reporting, BI Analysts, Project Managers, Business Analysts, Consultants, Architects and so on are among the top and hot in the market and are expected to increase in demand in the market.
The best part being that – programmers and non-programmers both hold an equal opportunity in Salesforce domain. One with programming skill can become a Salesforce Platform developer and with Non-Programming skills one can become a Business Analyst/Functional Consultant. As this technology demands 20% code and 80% clicks to build applications.
Following is a detailed chart that gives you an idea about the lucrative pay packages you can get with Salesforce as a qualification in your resume: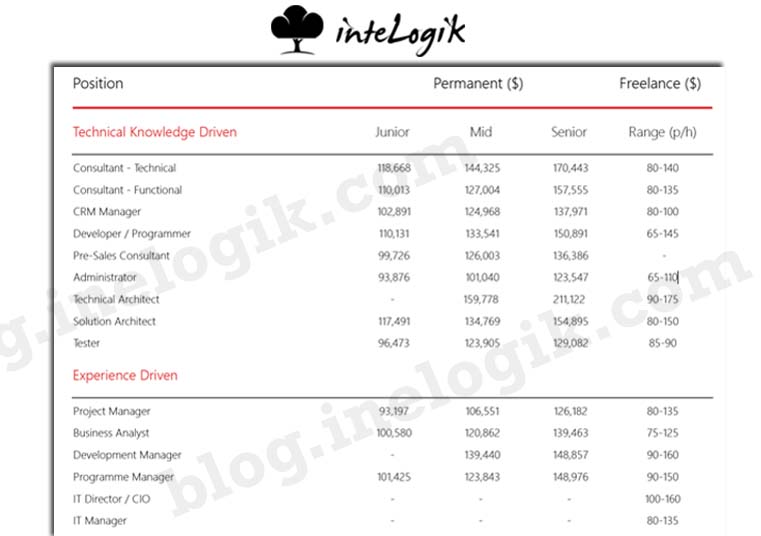 100% FREE Consultation on Salesforce Training & Solutions
Whatsapp: +91-7774892805 OR Email: contact@intelogik.com